Seat and backrest
High quality fabric covered comfortable seat made of long-lasting polyurethane.
Removable seat upholstery with optional color.
Backrest with high quality Korean Wintex mesh.
Lumbar support
The backrest has an additional horizontal lumbar support that can be adjusted.
Mechanisms
Multifunctional Synchronous Mechanism for Dynamic Backrest and Seat Feed 2: 1;
The height of the chair is evenly adjusted with the help of the top-class cylinder;
Adjustable backrest stiffness;
Swing position;
Anti-shock protection to prevent the backrest from striking the back of the person (anti-shock function);
Possibility to lock the seat and backrest in 3 positions;
Seat depth adjustment system. This is especially needed for long-legged users as it helps to maximize the comfort of a seat.
Armrests
Black frame armrests are adjustable up and down;
Armrest cushions are made of soft long-lasting polyurethane.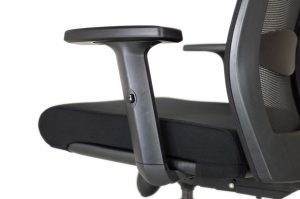 The basis of the chair