Think about the perfect workplace for you. Is it a quiet spot where you can concentrate, a comfort zone, or a meeting place?
Function creates form, so while arranging a space, you also shape the direction of social relationships.
Concentration
More and more tasks performed at the office require teamwork. Many projects are run in interdisciplinary teams that need frequent but short status meetings. Unfortunately, many offices are not suited for this – the most lacking types of space are small meeting rooms and spontaneous meeting areas. Fortunately, this problem can be solved easily thanks to Play&Work soft seating.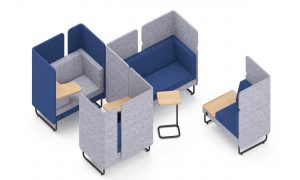 Acoustic
Play&Work is a system of sofas with high, upholstered walls which can be used to build a "room in a room": a separate area close to the work area, where you can sit down and discuss a project with your colleagues at any time.
Thanks to the high panels, the sofas have a large sound absorbing surface, which can contribute to improving the acoustic properties of the room.